A Brief History of Grifonton, Page 1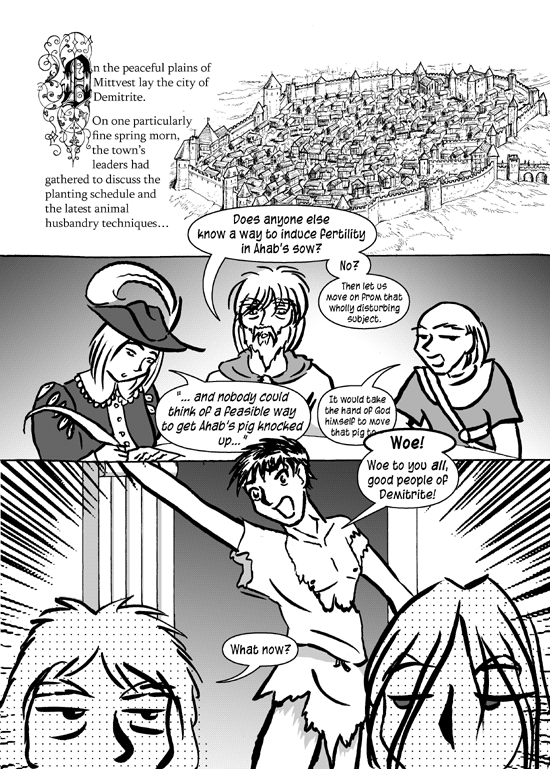 Everything that follows is original 2005 commentary except where noted "–RN 2012″:
This first page features two things that I did not draw. The ornate O and drawing of the village are courtesy of the Dover Pictorial Archive. I suppose it's time I let you all in on a dirty little secret of the comic and manga world: Artists frequently use copyright free artwork to supplement their own. I'm not talking about just screen tones. I have recognized several ornamental designs in Naoko Takeuchi's Sailor Moon manga from my Dover design and ornament books. The O came from Dover's Ornate Letters and Initials by Dan X. Solo. I originally bought the book for use in my Grimm Reality comic series (which did not pan out). Although one of the characters, Brenda Grimm, did go on to be a regular in my Rachel the great comics.–RN 2012 The village came from Life in a Medieval Castle and Village Coloring Book by John Green. I was surprised when I checked the copyright page to learn it was a part of the Pictorial Archive. Basically what this means is that if you buy the book (Dover ornament books usually run about $15, but this coloring book was only $4) you get the right to "use the designs and illustrations for graphics and crafts applications, provided that you use no more than four in the same publication or project." That is a sweet deal, my friends, and it saved me fifteen minutes of drawing what would have been an admittedly inferior townscape. As a note, if you are interested in drawing medieval stories, get the coloring book.  It's a great reference tool with images inside and out of many buildings, not just castles.
Suggested Listening: "Silvergryph"