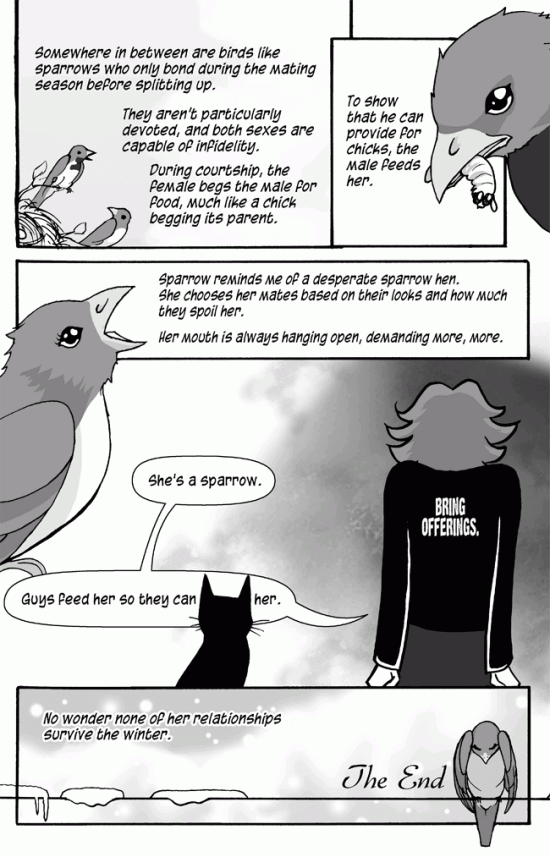 And that's why I name Sparrow "Sparrow" so many years ago. She is the sparrow to Rachel's crow.
We're getting really close to where I shelved the series. I wish I had been able to finish this story arc. I just finished setting up Sparrow's predicament and Rachel's attitude. The arena was set. It was set!! I had my lincoln log village built and my stompy boots on! I was this close to showing the story How Rachel Became Human Came of Age.
At this point, readers cried foul! Rachel, they said, how can you be so mean! What's wrong with you? Many seemed to believe Sparrow was based on a real person and ran to her defense–these, people who were content to cut her down only weeks before in Sparrow's Move.
Maybe I was telling the tale of these dueling personalities a little too well?
Clop's comment on gURL was on the nose:
"Sparrow IS a bitch. She would screw over another girl to get what she wants. But she's got feelings, everyone does. Even the girls at your school who you think are utter monsters probably go through what Sparrow is going through here.

Rachel hates Sparrow and Bob because they both betrayed her in Stupid Male Incident #1. She has no respect for Sparrow because she would rather find external validation in a man than look within herself and stand on her own two feet. But Sparrow is insecure and her actions betray her.

You will probably see in time that Rachel will learn how Sparrow actually is (callow and weak), not just how she perceives her to be (a slutty user). How Rachel reacts to this new perspective on Sparrow will be very interesting indeed "