Rachel the Great Takes the Bus, Page 1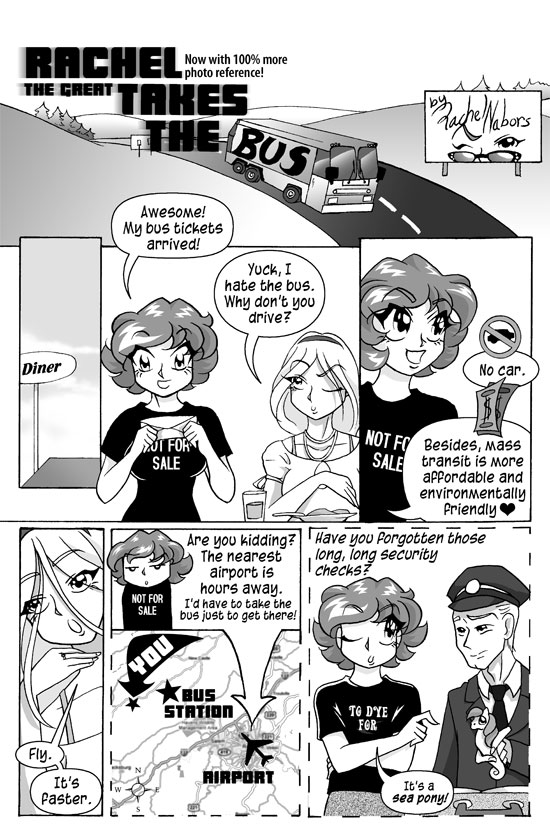 There is this huge aversion to taking the bus in America. Our scale of desirable transportation runs like this (in order of optimal to sub par):
Car > airplane > train > subway > yak > bus
Unless you live in an urban center, you will be lucky to find a Greyhound.
Truth is, many people who take buses are poor, old, or have "issues" (which I'll talk about in a moment). And most people who can afford to drive a car won't take a bus, listing the above as discouragements along with time delays. Unfortunately, it's a downward spiral because as young professionals stop taking buses, bus routes become strung out and ineffective, and the ratio of the very same people car-drivers are trying to avoid goes up.
I have always felt that cars are a false economy and that sooner or later, we'll be forced to sit in the same vehicle together. Better get used it now
In this comic, originally posted at gURL.com, I attempted to illustrate the many positives of riding the bus across the country, as well as give out a few of my tips.
Truth is, if you ride the bus well, it can be ten times nicer than the airplane. No airport, minor delays, two seats to yourself, breakfast stops. One of my most vivid memories of the Greyhound was blinking sleepily in my seat at 8am, munching on an apple I'd packed, blanket draped over my body as an attractive boy got on board, smiled at me and said, "Hey." Small things like that make life worth remembering. This is the stuff, you know?