Stupid Male Incident #1, Pages 4 and 5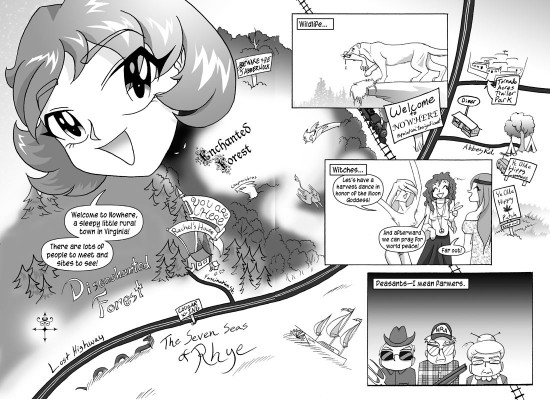 This is why I don't do spreads anymore! They just don't fit into site templates very well. If we're not careful, the Internet will result in the death of the comic spread. I'll try to think of a more elegant way to do this. In the mean time, click that link and get an eyeful!
There are so many Queen references on this map. I remember I wanted to do an issue with Rachel and Tuna sailing on the Seven Seas of Rye in a gigantic, wind mill-esque ship, taking on the mighty Titan and its pirate crew of troubadours. Arrr, that'd be a good tale, that!
Fun fact: Brenda lives in the Enchanted Forest.